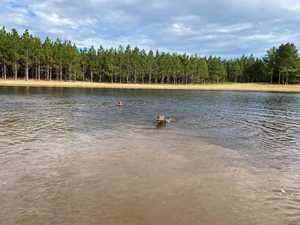 CH Nani's Sophisticated Lady, MH, NA, NAJ, NRD, SDX, VX, BROM
DOB:  July 1, 2004 - November 12, 2016
Titles: CH (Champion), MH (Master Hunter), NA (Novice Agility), NAJ (Novice Agility Jumpers), SDX (Shooting Dog Excellent), NRD (Novice Retrieving Dog), VX (Versatile Excellent), BROM (Bench Register of Merit)  
OFA: Hips Good; Elbow, Cardiac, Thyroid, Cerf - Normal; CHIC
At six months of age, Sophie won the Best Bitch in Sweepstakes Award (owner handled) at the Charleston Weimaraner Club Specialty.  It was the first time she stepped into the show ring and was a perfect start to an exciting show career for the beautiful young bitch! 
At ten months of age, at the Weimaraner Club of America's largest event, the National Specialty in Gettysburg, PA, Sophie won the prestigious Winner's Bitch Category and was awarded a 5 Point Major. Judge Houston Clark picked Sophie from the 9-12 month puppy class over 105 other Weimaraner Bitches for the win.  Sophie, handled by her breeder and co-owner Chris Grisell of Nani's Weimaraners, endured cold, wet weather and jumped though water puddles with a great attitude and a wagging tail. After Sophie's National win she went on to earn several more breed points and her second Major.  She finished her Championship 3 days before turning 14 months old. 
Sophie had great hunting drive and a beautiful, stylish point.  Working her way through the levels, Sophie earned the AKC Title of Master Hunter and the WCA Title fo Shooting Dog Excellent.  Sophie also earned AKC titles of Novice Agility (NA) and  Novice Agility Jumper (NAJ) and WCA Titles of Novice Retrieving Dog (NRD) and Versitile Excellent (VX). 
Sophie produced two beautiful litters.   Their accomplishments enabled her to earn her BROM (Bench Register of Merit).   Use the links below to learn more about her offspring.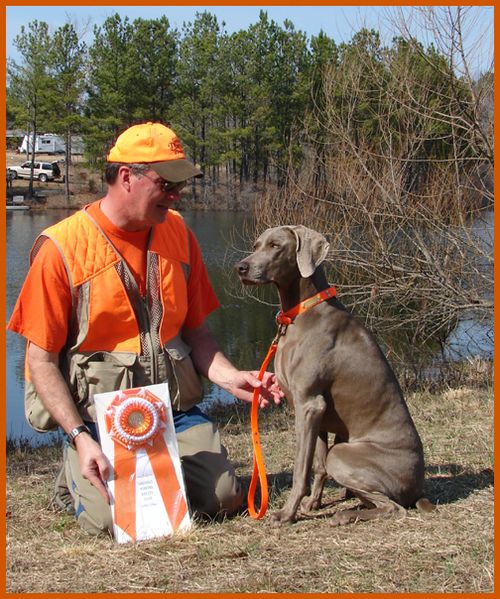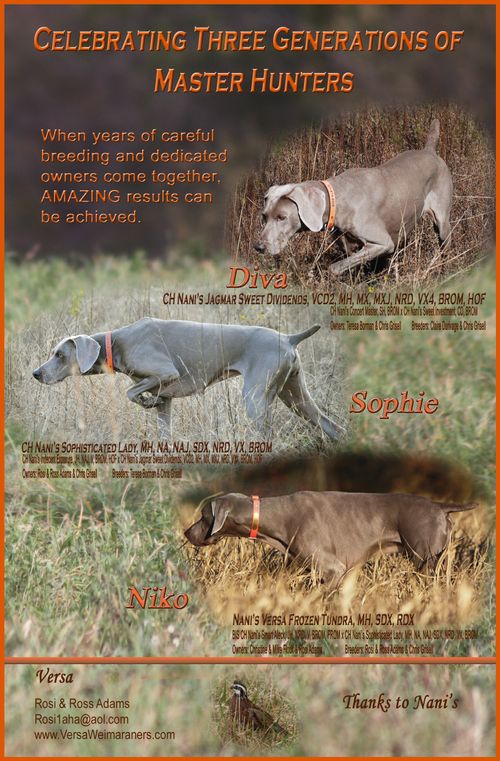 CH Nani's Sophisticated Lady, MH, NA, NAJ, SDX, NRD, VX, BROM
CH Nani's Indecent Exposure, JH, NAJ, V, BROM, HOF

AM/CAN CH Colsidex Nani Reprint, JH, SD, BROM

AM/CAN CH Colsidex Standing Ovation, BROM

AM/CAN CH Seneca's medicine Man, BROM

AM/CAN CH Colsidex Dauntless Applause, NSD, BROM

CH Nani's Cobbie Cuddler, BROM

AM/CAN CH Nani's Master Charge, NSD, NRD, V, BROM

CH Nani's Cascade V. D. Reiteralm, BROM

CH Nani's Tattletail, JH, NSD, BROM

CH Nani's Southern Cross, BROM

AM/CAN CH Arokat's Legionnaire BROM

CH Forshado Nani's Crystal Vision, BROM

CH Nani's Nobodie's Patsie, JH, BROM

CH Midnite Magic Von Holly Haus, BROM

CH Nani's Knockers, CDX, TD, NA, JH, SD, VX, BROM

CH Nani's Jagmar Sweet Dividends, VCD2, MH, MX, MXJ, NSD, NRD, VX4, BROM, HOF

CH Nani's Concert Master, SH, BROM

CH Baht N' Greywind Playn' The Game, NSD, BROM

CH Greywind's The Snowman, NSD, BROM

CH Baht's Cuttin' Corners

CH Nani's Perfect Cadence, CD, JH, V, BROM

CH Nani's Baht A Pack A Trouble, CD, JH, V, BROM

CH Nani's Kookaburra, BROM

AM/CAN CH Nani's Sweet Investment, CD, BROM

CH Nani's Southern Cross, BROM

AM/CAN CH Arokat's Legionnaire BROM

CH Forshado Nani's Crystal Vision, BROM

CH Nani's Knockers, CDX, TD, NA, JH, SD, VX, BROM

CH Sanbar Telmar Its Only Rumor