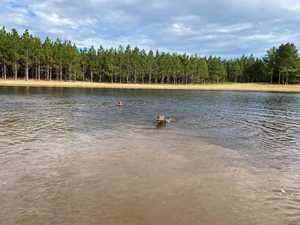 CH Nani's Ldan Frankly Speaking, CDX, tD, SH, CGC, SD, NRD, VX2, BROM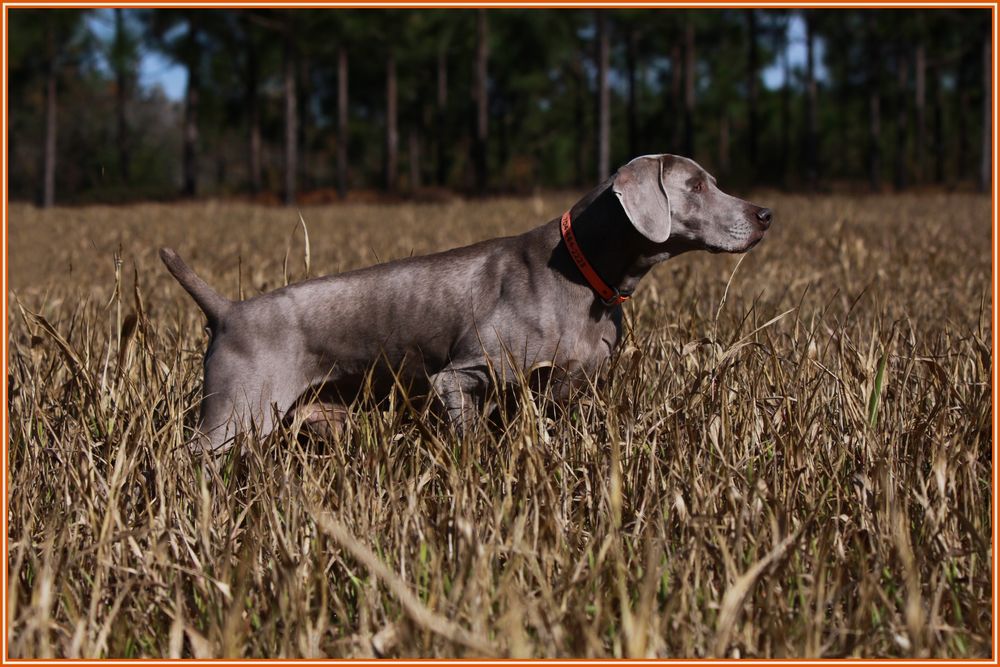 DOB: December 8, 2000 - July 20, 2015
Titles: CH (Champion), CDX (Companion Dog Excellent), TD (Tracking Dog), SH (Senior Hunter), CGC (Canine Good Citizen), SD (Shooting Dog), NRD (Novice Retrieving Dog), VX2 (Versatile Excellent Two), BROM (Bench Register of Merit)
OFA: Hips Good; Elbows, Thyroid, Cardiac -  Normal
Frankie had a wonderful show career, finishing his Campion Title at 11 Months of age and receiving a Sporting Group 4 award from the puppy classes.  Frankie was the First-Place Intermediate dog at the Weimaraner Club of America Show Futurity in 2002 and 4th Place WCA Maturity Dog in 2003. He received many Best of Breed Awards and often was Best of Opposite Sex to the number one Weimaraner and Top 10 Weimaraners in the Country.  He was only shown occasionally in conformation events, and he received many compliments from Conformation Judges for his overall condition and movement.  Frankie was truly a dog who could go out in the field and do what Weimaraners were bred to do in Germany.  He proved himself in all venues and performance events he entered and truly was a Versatile Weimaraner. 
We are proud of his accomplishments and looking back they are so more significant for owner's with so little experience and knowledge.  Frankie accepted our lack of knowledge and experience and showed us the way to our first advanced hunting and retrieving titles, obedience titles and our first Tracking Dog title. 
But Frankie was so much more than a show and performance dog.  He was a family member and an integral part of our family life.  He was a clown dog and rare were the days he didn't make us laugh with his antics and his charm.  He lived a long and full life, but still left a void when he crossed Rainbow Bridge that remains in our hearts to this day.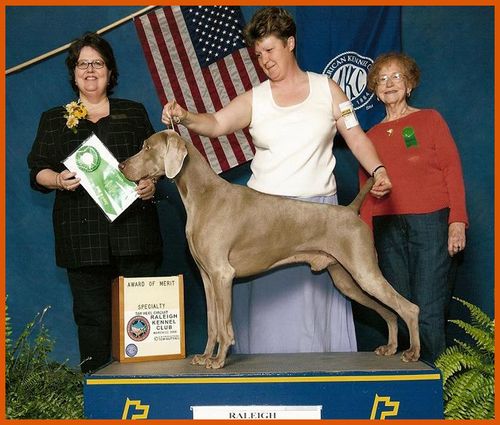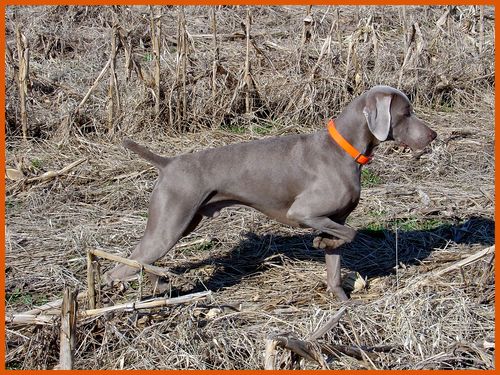 CH Nani's Ldan Frankly Speaking, CDX, TD, SH, CGC, SD, NRD, VX2, BROM
CH Nani's Smart Aleck, JH, NRD, V, BROM, FROM

CH Midnite Magic Von Holly Haus, BROM

CH Nani's Southern Cross, BROM

AM/CAN CH Arokat's Legionnaire BROM

CH Forshado Nani's Crystal Vision, BROM

CH Phoebe's March Fashion

CH Krista Sue's Scout Master

CH Nani's Knockers, CDX, TD, NA, JH, SD, VX, BROM

CH Nani's Baht A Pack A Trouble, CD, JH, V, BROM

CH Nani's Kookaburra, BROM

CH Sanbar Telmar Its Only Rumor

CH Ann's Magic Vd Reiteralm, BROM

CH Bryrwood Sanbar's Hot Ticket, BROM

CH Nani's Laughing Waters

CH Nani's Concert Master, SH, BROM

CH Baht N' Greywind Playn' The Game, NSD, BROM

CH Greywind's The Snowman, NSD, BROM

CH Baht's Cuttin' Corners

CH Nani's Perfect Cadence, CD, JH, V, BROM

CH Nani's Baht A Pack A Trouble, CD, JH, V, BROM

CH Nani's Kookaburra, BROM

CH Nani's N Holihaus Pagen Cross, JH

CH Nani's Southern Cross, BROM

AM/CAN CH Arokat's Legionnaire BROM

CH Forshado Nani's Crystal Vision, BROM

CH Phoebe's March Fashion

CH Krista Sue's Scout Master