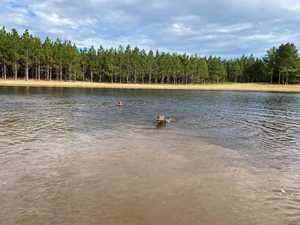 MBIS MBISS BIM BIF GCHG VERSA N' PRISM FRANKLY MY DEAR, JH, NSD, BROM
DOB: January 16, 2016
Titles: MBIS (Multiple Best-In-Show), MBISS (Multiple Best-In-Specialty-Show), BIM (WCA Best in Maturity), BIF (WCA Best in Futurity), GCHG (Grand Champion Gold), JH (Junior Hunter), NSD (Novice Shooting Dog) , BROM (Bench Register of Merit)
OFA: Hips Good; Elbow, Cardiac, Thyroid, Cerf - Normal; CHIC; SD, HYPM - Normal, HUU - Carrier, Color - K/K
The first thing that comes to mind about Frankly is "A Dream Come True".  Sired by our dog Frankie from a frozen semen implant many years after his passing, she reminds us of him and brings us much enjoyment. Her "show career" has been nothing short of amazing. 
Frankly finished her Championship with five majors  and her Grand Championship quickly and with ease. She won the much coveted Weimaraner Club of America, Best Bitch in Futurity in 2017 as well as Best Bitch in Maturity in 2018. By then she had already earned her first All Breed Best In Show and multiple Sporting Group placements. At Weimaraner Nationals in 2018 Frankly made us very proud earning the People's Choice Top 20 Award as well as an Award of Merit. After a change in professional  handlers to the much respected and sought after Michelle Scott (Creekside) our Princess quickly earned another All Breed Best In Show  as well as numerous Group Placements and finished the year in the Weimaraner Top Ten All Breed Show dogs. Another highlight was her being chosen as Best Of Opposit Sex at the famous Westminster Kennel Club show in NY, NY having earned a much desired Select the year before.
Coming out of semi retirement for Weimaraner Club of America Nationals in 2019, Frankly finished a beautiful "dance" with her much loved handler Michelle Scott, receiving a First Award of Merit during the Top 20 Invitational extravaganza as well as an Award of Merit at the National show the next day. 
Frankly has shown her versatility by earning a Junior Hunter title owner trained and handled, as well as her WCA Novice Shooting Dog award. Frankly has a beautiful stylish point and is an avid hunter and retriever.  We are planning to give her more opportunities to shine in the field as she is only attending conformation shows infrequently now.
Frankly has given us 3 beautiful litters with Champions in each litter.  We look forward to their continued success in the show ring and in the field.